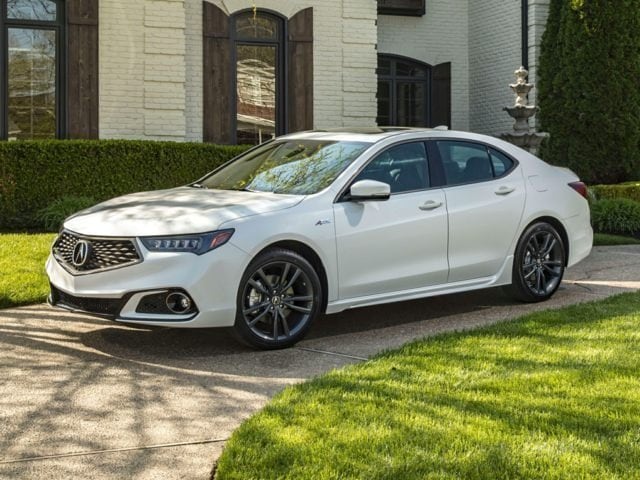 Compare the new Acura TLX to its competitors here in Fort Lauderdale
If you're in the market for a luxury car in the greater Fort Lauderdale area these days, you'll  find plenty of compelling option to choose from in the luxury sedan segment. However, while many dealerships from Miami to Davie have luxury sedans front and center on their showroom floors, few are can match the appeal, poise, and refinement of the new Acura TLX here at Rick Case Acura. This sophisticated new luxury sedan embodies the pinnacle of Acura engineering, and we're confident that it'll prove a perfect fit for drivers from Pembroke Pines to Sunrise, FL and all points in between. In fact, we're so confident that the new Acura TLX is one of the best luxury sedans on the market that we've pitted it against two of its closest segment competitors to show you how it stacks up!
Acura TLX vs. Lexus IS
Cargo Space: If you like taking long trips beyond the borders of Florida, having a car with enough cargo room for your luggage is essential. When you compare the Acura TLX and the Lexus IS, you'll see that the Acura TLX offers more cargo space overall.
Passenger Space: Much like its cargo space, the Acura TLX offers more passenger space than the Lexus IS, making it a truly comfortable luxury sedan to drive for long periods of time.
Safety Features: Both the Acura TLX and the Lexus IS boast exceptionally sophisticated safety systems, including forward collision warning, automatic emergency braking,  and adaptive cruise control. However, only the Acura TLX offers road departure mitigation, which can help prevent the vehicle from drifting off the road.
Convenience Features: If you've ever tried parking in the busy lots and parking structure of Miami, you know how challenging it can be to maneuver with lots of obstacles around. Fortunately, the Acura TLX features a surround view parking camera system that makes quick work of even the trickiest parking maneuvers. By comparison, the Lexus IS only offers an available rearview camera.
Infotainment Systems: While the Lexus IS may offer a useful touchscreen infotainment system inside its cabin, the Acura TLX easily outclasses it with its innovative dual-screen infotainment system, which allows you to have utilize apps and play music while still keeping crucial information like navigation right within your sightline, allowing you to focus on the road ahead.
Acura TLX vs. Audi A4
Cargo Space: Just as with the Lexus IS before it, the Audi A4 falls short of the Acura TLX when it comes to cargo space, making it a much less appealing option for drivers here in the greater Fort Lauderdale, FL area  who travel often.
Convenience Features: Convenience features increasingly define the luxury car segment, and if you ever needed evidence of that, you need only look to the Acura TLX. With its available remote start system, you can easily start up your car to let the climate control system cool it off even before you step outside your door. Unfortunately, if you want a similar feature on the Audi A4, it'll have to be installed as a costly aftermarket extra.
Comfort: Speaking of the sweltering southern heat, leather upholstery can become undeniably uncomfortable at the height of summer. Fortunately, with its available ventilated front seating, you can stay cool and comfortable behind the wheel of the Acura TLX. Unfortunately, no such ventilated leather seating options are available for the Audi A4.
Technology: Need to charge up your phone on the go, but don't want to clutter up the cabin of your car with pesky charging cords. Good news! The Acura TLX features an available wireless charging pad for compatible mobile devices, while the  Audi A4 is missing a similar feature.
Infotainment Systems: When it comes to infotainment systems, the Audi A4 actually fares much worse even than the Lexus IS when compared to the Acura TLX. The Audi A4 does not have a touchscreen system, but rather a finicky touchpad controller located on the center console. When compared to the intuitive dual-screen system of the Acura TLX, the Audi A4's infotainment system seems much harder to use on the road.
If you'd like to take a test drive with the new Acura TLX, feel free to pay us a visit at Rick Case Acura in Fort Lauderdale.