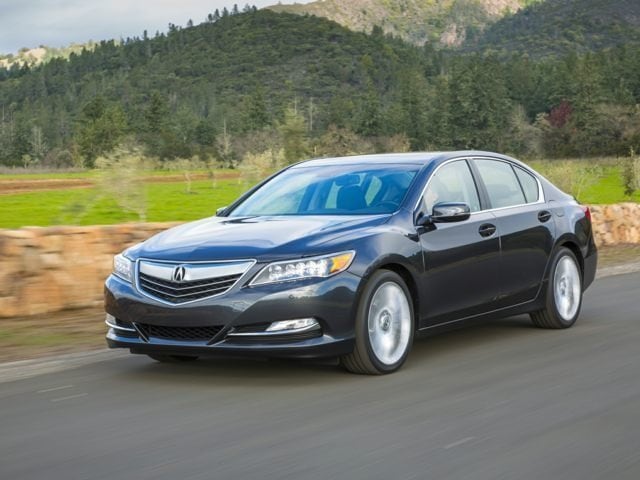 Shopping for your next luxury sedan here in Ft. Lauderdale? Come see how the new Acura RLX compares to its competition
From exhilarating performance to premium features, there's a lot that drivers expect out of luxury sedans these days. Luckily, few sedans are as adept at delivering on those promises than the new Acura RLX here at Rick Case Acura in Ft. Lauderdale. Sporty and fun to drive yet endlessly refined with an array of premium tech features, the Acura RLX epitomizes the luxury sedan segment.
That being said, if you've got your eye on the new Acura RLX here at our Ft. Lauderdale, FL dealership, you're also probably keeping a close watch on other luxury sedans dealerships in nearby Miami, Pembroke Pines, Sunrise, and even Davie, FL. Don't worry though, because we're doing the exact same thing here at Rick Case Acura. That's why we've put together a brief competitive analysis to show you how the Acura RLX stacks up to other luxury sedan competitors.
Acura RLX vs. Lexus GS
Performance:Looking to enjoy your time on the road more? If so, you'll certainly appreciate the fact that the new Acura RLX is significantly more powerful than the comparably equipped base trim of the Lexus GS.
Transmission: Opt for the 2018 Acura RLX and you'll enjoy every moment behind the wheel with its all-new 10-speed automatic transmission. By comparison, the Lexus GS and you'll have to make do with a much-less responsive 8-speed automatic transmission.
Interior Space: If you're like many drivers here in Ft. Lauderdale and nearby Miami, you're looking for a luxury sedan that can comfortably accommodate you and your loved ones. Fortunately, the new Acura RLX has more overall interior space than the new Lexus GS, making it a great fit for most Florida drivers whether cruising around town or enjoying longer road trips.
Convenience Features:Want a bit of help dealing with the wild weather here in Florida? The Acura RLX features standard automatic windshield wipers, while the same feature is only available as pricey option on the Lexus GS.
Safety Features: Both the Acura RLX and Lexus GS feature innovative active safety systems, but only the Acura RLX features an available 360° Surround View Camera system that makes parking in cramped spaces around Pembroke Pine, Sunrise, and Davie a breeze!
Acura RLX vs. Audi A6
Performance: Much like the Lexus GS before it, the performance credentials of the Audi A6 base trim are simply outclassed by the markedly more powerful base trim of the Acura RLX. This firmly cements the Acura RLX as the car of choice for Floridian drivers who value truly engaging driving experiences.
Trunk Space: Whether its grabbing groceries in Sunrise, FL or taking your family on a road trip across country, you want to have a car that's both luxurious and spacious enough to accommodate your luggage. Fortunately, when you compare the Acura RLX and the Audi A6, you'll find that the Acura RLX has a much roomier trunk area than the Audi A6, making it all too easy to load up and head out on the road.
Hybrid Powertrain Option: The Acura RLX features an available hybrid powertrain that still lives up to its dynamic poise. Unfortunately, for the Audi A6, it lacks a comparable hybrid powertrain option.
Convenience Features:If you're like many drivers from Ft. Lauderdale to Davie, FL, you value a luxury car that can provide you with premium comfort on the road.  Luckily, the Acura RLX features a standard power-adjustable tilt-and-telescoping steering wheel, making it simply effortless to achieve the perfect driving position to maximize your comfort. On the other hand, if you want a similar feature on the new Audi A6, you'll have to spring for a markedly more expensive option package.
Safety Systems: Once again, both the Acura RLX and Audi A6 have sophisticated active safety systems available on their respective equipment lists, but only Acura RLX features available Road Departure Mitigation, which can provide you with unparalleled peace of mind by preventing your car from drifting off of paved surfaces.
Visit us at Rick Case Acura in Ft. Lauderdale, FL to learn more about the new Acura RLX today!