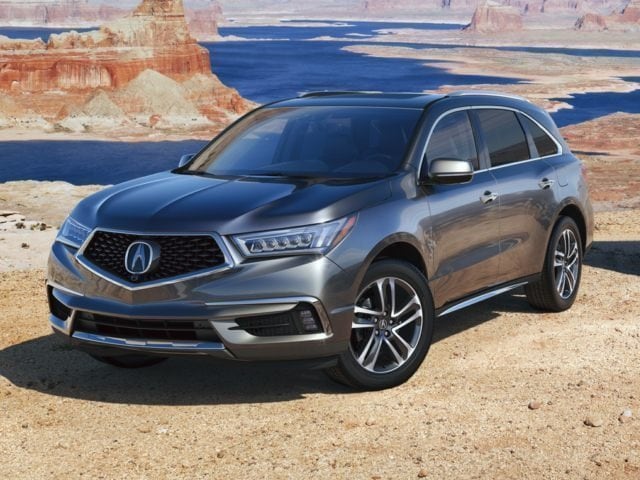 Discover the new Acura MDX here and compare it to its competitors
Here in the greater Fort Lauderdale, FL area, having a reliable, spacious, and well-appointed SUV at your disposal can be absolutely invaluable. Fortunately, no luxury SUV embodies those qualities and so many more like the new Acura MDX here at Rick Case Acura.  This three-row luxury SUV easily ranks as one of the most attractive models in our Fort Lauderdale, FL Acura showroom. And with its premium features, responsive performance, and the latest in Acura technology on its equipment list, the new Acura MDX is sure to be a great fit for drivers from Pembroke Pines to Miami, FL and all points in between. Of course, the Acura MDX isn't the only three-row luxury SUV around, so to help inform your shopping decisions, we here at Rick Case Acura have put together a brief competitive comparison to show you how it stacks up to comparable models like the new Lexus RX and Audi Q7.
Acura MDX vs. Lexus RX
Passenger Capacity: For those with growing families in the greater Sunrise, FL area, finding a vehicle that can comfortably accommodate all their loved ones is of the utmost importance. Fortunately, the Acura MDX boasts comfortable seating for up to seven passengers, while the Lexus RX only offers seating for up to five passengers.
Cargo Space: Looking to get out of Pembroke Pines, FL for a long family trip cross country? If so, you'll need a vehicle with enough cargo space for all your family's luggage. Luckily, with up to 90.9 cubic-feet of cargo space available, you'll never go wanting for room for all your things in the Acura MDX. On the other hand, the Lexus RX is a tighter squeeze with only 56.3 cubic-feet of cargo space available.
Comfort: The Acura MDX comes standard with tri-zone automatic climate control, making it easy for you and your passengers to stay comfortable at the perfect temperature on longer trips, while the Lexus RX only offers standard dual-zone automatic climate control.
Luxury: Look inside the cabin of both the Acura MDX and Lexus RX, and you'll see that the Acura MDX is markedly more upscale with its standard leather upholstery. Unfortunately, the Lexus RX is only outfitted with standard premium vinyl upholstery, meaning you'll have to pay extra if you want the real thing.
Ride Quality: Easily one of the most attractive features the Acura MDX offers for adventurous drivers here in the greater Fort Lauderdale, FL area is its Adaptive Suspension Damping system, which allows the vehicle to deliver a smoother, more measured ride quality in  both city and off-road driving situations. By comparison, if you want a comparable adaptive suspension system on the Lexus RX, you'll have to pay more for a higher trim to get it.
Acura MDX vs. Audi Q7
Performance: If you're looking for an engaging driving experience when cruising around the greater Miami, FL area, you'll find it behind the wheel of the new Acura MDX. With 290 horsepower standard, the Acura MDX easily breezes by the less powerful Audi Q7, which only manages up to 252 horsepower standard.
Cargo Space: Like the Lexus RX before it, the Audi Q7 comes up short of the Acura MDX when it comes to cargo space. The 90.9 cubic-feet available in the Acura MDX positively dwarfs that of the Audi Q7, which only offs up to 71.6 cubic-feet of cargo space.
Safety Systems: If you value your family's safety and security on the roads of Fort Lauderdale, FL, you should choose the Acura MDX over the Audi Q7. The Audi Q7 only offers forward collision mitigation and automatic emergency braking, while the Acura MDX offers that feature as well as lane and road departure warning and mitigation, and adaptive cruise control to boot.
Entertainment: Looking for something to keep your kids occupied on longer trips? The Acura MDX can be outfitted with an available rear seat entertainment system which features an available 16.2-inch display and 12-speaker sound system. Unfortunately, the Audi  Q7 lacks a comparable rear seat entertainment system.
Convenience Features: The Acura MDX features standard automatic LED headlamps with automatic high beams. The Audi Q7 doesn't.
For more information on the new Acura MDX, feel free to visit us at Rick Case Acura in Fort Lauderdale.