There's a lot of reasons to consider a three-row SUV these days. Maybe your family is already feeling a bit cramped in your current five-passenger SUV. Maybe you're looking for a vehicle that has a few extra safety features. Or maybe your kids have just started going out for school sports…and you're stuck with the job of taking the team out for pizza after the game. Whatever the reason may be, if you're looking for a roomier ride, you'll find space, sophistication, and even some features you might not expect with a three-row Acura SUV like the new Acura MDX.
With room inside for up to seven passengers, the new Acura MDX is a people mover of the highest calibre. But unlike some of its rivals who match its capacity ,the Acura MDX truly goes the extra mile to ensure a comfortable ride for passengers in all three rows.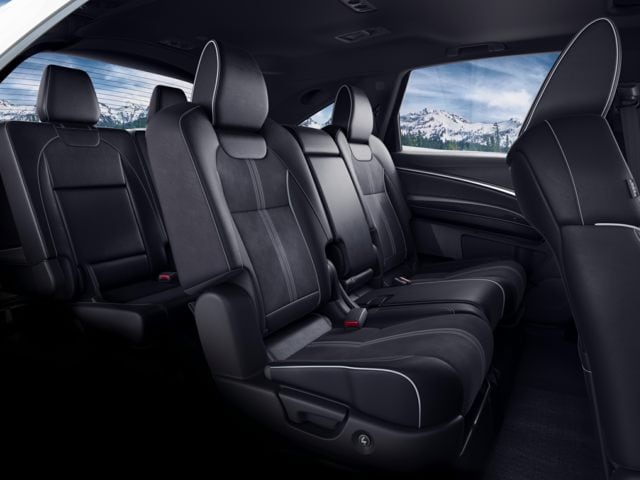 Up front, the Acura MDX features two person seat memory settings, which are perfect if your share the car with your spouse. Allowing you to set everything from the angle of the seat back to the temperature of the seat warmers, the Acura MDX automatically adjusts the driver's seat to your specifications, allowing you to simply get out on the road with no fuss.
As for the rear seats, available leather upholstery ensures that riding in the back is just as comfortable as up front. One-touch smart-slide access makes it easy for your little ones to get in and out of the third row, and putting in and taking out car seats is eminently easy thanks to readily accessible LATCH anchors and wide door apertures.
Of course, with a vehicle as sophisticated as the Acura MDX, there's plenty to recommend even beyond its three rows of seating. So, if you'd like to find out more and see whether the Acura MDX is the right fit for you and your loved ones, then we'd love to see you here at Rick Case Acura. Swing by our showroom and see why this three row Acura SUV is such a popular option for our customers.